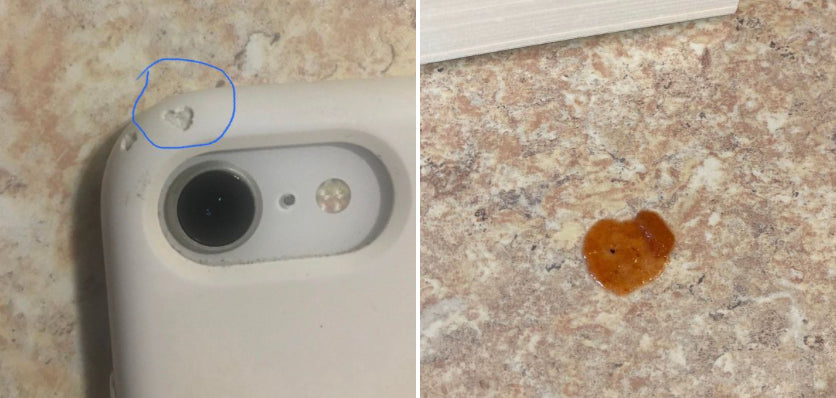 "My SON passed away in May at the age of 45 in a TRAGIC ACCIDENT. He was married and had three children ages 13, 6, and 4.
Of course, my heart was BROKEN, and still is, but with my FAITH in God I look for strength and hope each and every day.
On especially difficult days I ask for hopeful SIGNS and some days God sends me HEARTS.
Here are two examples: a heart shape on my PHONE CASE from what I assume is from jamming my phone into tight spots in my purse … and the other … some PASTA SAUCE plopped onto the counter in a HEART SHAPE.
God has the most unique ways of answering prayers whenever they are NEEDED."
Joanne Sprankle
••••
Godwinks are signs of comfort. They also represent a unique and special LANGUAGE between you and God.
Joanne and God communicate through the language of hearts.
Louise and I have a language of numbers … three 4's always showing up at auspicious moments.
I can only imagine the kinds of symbols that you have determined are part of your language to communicate with God. But… it is comforting, isn't it!
May you speak in Godwinks today!
SQuire
Valentine's Day is nearing... we invite you to think about a Godwink book and a free love card to accompany it ... or even a Godwink Mug.