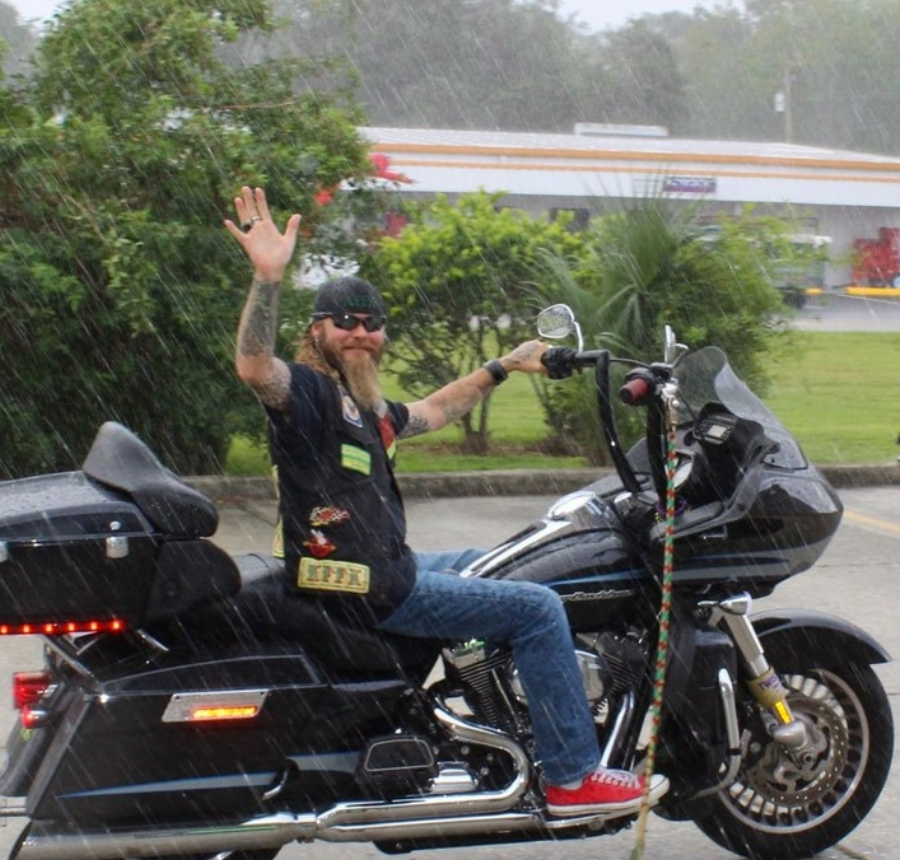 "Our church motorcycle ministry near Boston took a ride to Nova Scotia.
It was pretty country. Occasionally a farmer would lift up his head to watch a dozen bikers ride by, momentarily disturbing the peaceful countryside with the roar of our Harley's.
I'd wonder what they'd think as we rode into the distance ... and saw the WHITE CROSSES on the backs of our leather jackets.
It was late afternoon, dark clouds formed, then it started pouring. I was worried about finding a place for the night. But first ... we had to get in OUT OF THE RAIN.
Then I spotted a gas station up ahead with a canopy roof. We all pulled in and gathered around.
I asked the attendant if there was a nearby motel. He shook his head.
So, the same way I start every day on the construction sites, and face every issue without an answer, I said, 'LET'S PRAY.'
I asked for God's grace to provide us with a warm place for the night.
One man added, 'With comfortable beds.' 'And a TV,' added another. 'And a shower,' said still another.
I ended by saying, "God, you tell us to BELIEVE, and we will RECEIVE all that we ask for in PRAYER."
As we lifted our heads we saw a form coming through the downpour, from across the road. A man with an umbrella.
'You need a place to stay?' he shouted.
I grinned and said, 'Wait a minute. Before you say another word, is this a warm place, with comfortable beds, a tv, and a shower?'
He nodded. 'Yep. I have a HOUSE nobody's in,' pointing ACROSS THE ROAD, 'Yer welcome to stay there.'
'Wonderful. What's the charge?' I asked.
'Not a cent. I saw the CROSSES on your BACKS. Com'on let's get you in for the night.'
I knew then and there that God was watching over us and answering prayers."
Rick LeClair
This WINK OF THE WEEK received very high engagement with readers on the Godwinks page ... www.facebook.com/godwinks.
Each week we'll be featuring one of the most shared Godwink stories right here.
Wishes for Godwinks.
SQuire