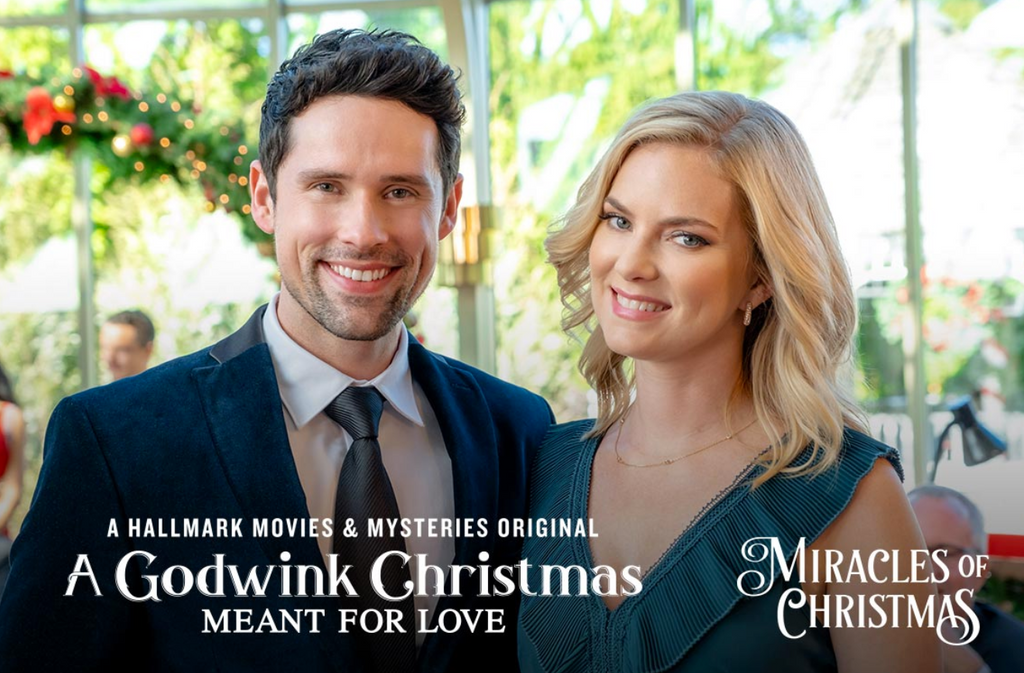 A GODWINK CHRISTMAS II - MEANT FOR LOVE
by Louise DuArt-Rushnell
A string of Godwinks bring together Alice and Jack, two strangers who have both given up on dating. Encouraged by her mom Olga (Kathie Lee Gifford) to attend a charity event, Alice (Cindy Busby) literally bumps into Jack, (Benjamin Hollingsworth a handsome bachelor with beautiful eyes.
Captivated with one another, Alice and Jack lose track of time in a long conversation culminating with a big Godwink: they discover they're both going to the same wedding the next day, six hours away.
The true-life story unfolds with more and more astonishing Godwinks¾those coincidences that aren't really coincidences at all, but come from divine origin¾bringing Alice and Jack closer and closer, with a surprise ending.
One of the sweetest memories for SQuire and me during the filming of the movie was the day that Cindy and Ben met the real Alice and Jack via a ZOOM video call. We arranged the meeting with Cindy and Ben on location in Vancouver where they were filming "A Godwink Christmas II – Meant for Love", and their counterparts were at home in Dallas.
The real Alice confessed that prior to the call she had been so nervous she changed her outfits and makeup three times!
Cindy and Ben were full of questions, wanting to know all about the Godwinky twists and turns that brought them together.
They jibber-jabbered like old friends for about an hour when the actors were called back to the set to continue filming.
Ben and Cindy felt the conversation gave them a better insight into their characters while Alice and Jack were … well … just blown away!
If you were to happen to encounter Alice and Jack on the street in Dallas they would gladly tell you that they still can't believe their beautiful love story has been made into a movie. Their prayer is that people will be encouraged to see how God divinely aligns our steps even through difficult and uncertain times. He always has a plan and a purpose! And He always communicates to us through Godwinks.
More: Cindy Busby, Kathie Lee Gifford, and Benjamin Hollingsworth.
Good Wishes for Christmasy Godwinks
Louise