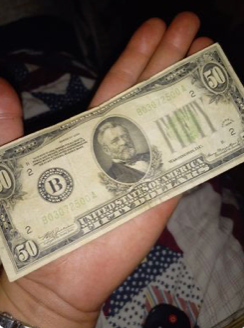 "I was BROKE and felt DESPERATE on three separate occasions while doing my very best to survive and take care of my child as a SINGLE PARENT.
Each time I trusted enough to actually ASK God to, 'Please HELP ME'.
In each case, out of nowhere, a STRANGER walked up, and handed me a $50.00 dollar bill.
EACH one SAID the exact same thing: 'GOD TOLD ME TO DO THIS'.
They shook my hand and walked away. I NEVER SAW one of the three individuals AGAIN."
Jenny Perkins
••••
Jenny is a perfect example of HOW PRAYER WORKS, often through the kindness of strangers.  
Isn't it reasonable to believe that God nudges people to divinely align them to become ANGELS AMONG US ... to help Him answer prayers … delivering GODWINKS just when we need them?
The Ancient Scriptures tell us to: "show hospitality to strangers, for by so doing, some people have shown hospitality to angels without knowing it." (Heb 13;2)
If you like being in the company of angelic people ... consider joining the Godwinkers Group led by my dear wife Louise. Now THERE's a small army of angels on earth... praying for each other ... all the time! https://www.facebook.com/groups/godwinkers   
May you find Godwinks and Angels along all your paths, today!
SQuire