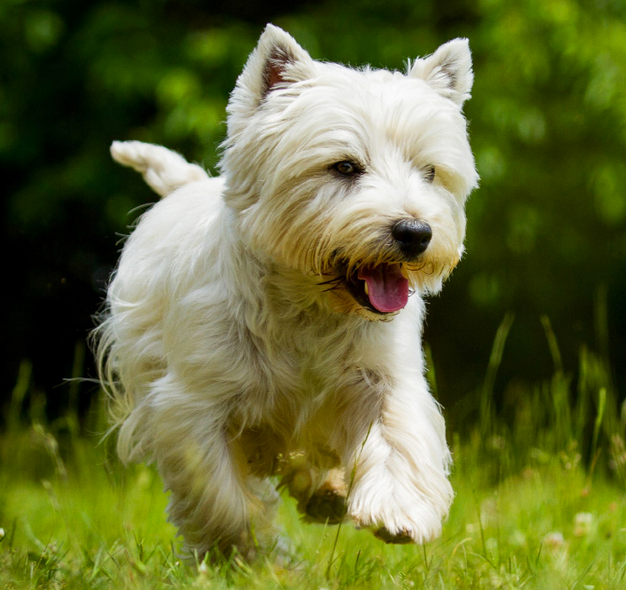 Sammy was a sociable little Westie the size of a large cat. Everyone in the East 79th Street apartment building would see Sammy excitedly tugging on his leash, so glad to be taking his morning run with his owner Richard, whose name was pronounced "Ree-chard."
The film producer's French-accented "Good morning" was almost as welcoming as seeing Sammy trying to pull this grown man onto the sidewalk, faster than he wanted to go.
Every day Richard went jogging in Central Park. And, Sammy always stayed close. In return for this good behavior, Richard would unhook Sammy's leash.
If dogs could whistle, that's what Sammy was doing.
Zip-a-Dee-Doo-Dah. Like in a movie about New York City in which he was the star! Expressing joy to everyone he encountered.
GRRRR…GRRRROWL!
Sammy jumped a foot in the air! YIKES! The world's biggest Doberman leapt from the shadows.
Sammy bolted!
Richard heard the commotion, stopped, and saw the Doberman yanking on the chain around his neck, attached to a fence.
Sammy ran like the wind, until, he realized the giant dog wasn't on his tail. But, Sammy had no idea where he was.
Richard was heartsick, dreading telling his wife Jill; worse, the prospect of sharing the news with their 9 year old daughter, Chloe, when she returned from school.
"But he has a name tag," said Jill in a voice choked with emotion.
Richard shrugged. The prospects of someone stopping and looking at Sammy's collar just seemed improbable at that moment.
He enlisted friends and laid out assignments to search specific quadrants of Central Park.
By 2:45 p.m. the searchers reassembled at the apartment, each bearing a dejected countenance, with nothing to report.
Sammy wandered aimlessly, helplessly lost in Central Park.
His ears perked up at the familiar motor noises of a city bus stopping. He ran to familiarity.
Emerging from the park, the adjacent street was busy with traffic, and honking sounds.
Then a voice spoke in a foreign language. Again, Sammy ran to familiarity.
The housekeeper left a note that someone had called.
"Hello," said Richard, hesitantly. "Someone left this number to call."
"Oui, monsieur," said the operator, "these ees the French Embassy on 5th Avenue. Your leetle puppy has come to visit us. He ees in our garden, right now. And we noticed a tag weese your number."
A burst of joy!
Somehow little Sammy had traveled 30 New York City blocks and arrived at a place he'd never visited before—the French Embassy! A dogwink for sure!
 ••••
Being lost is a terrible feeling ... for the one who's lost as well as for those trying to find them.
Of course, the best Lost & Found Department is God's. The first line of defense is to pray. And when that prayer is answered it's frequently in the form of a Godwink.
Every Monday look for Dogwink stories from our new book, Dogwinks: True Godwink Stories About Dogs." Pub Date Oct. 20th. Amazon  Barnes & Noble
Oh yes ... we'd love to have you share your dogwink story here … perhaps your pup can be in the next book!
Wishes for Godwinks that cause you to say "wow" … and "bow wow"!
SQuire