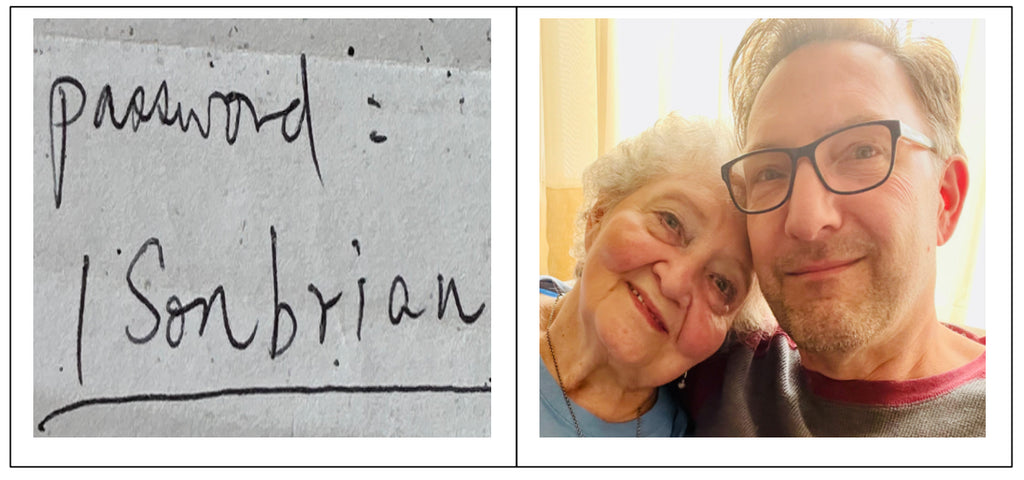 Our dear friend Brian Boyd lost his Mom recently.
 
His first thought: had he DONE ENOUGH for sweet Dolly?
 
As fresh GRIEF pressed down upon him … he forced himself back up to do what was expected … be the leader… organize things… prepare the memorial service.
 
Inescapable guilt raced through his mind… re-visiting the drastic challenges he'd placed upon his mom and dad only months before… moving them all the way cross country from all their worldly possessions in the North West … to an assisted living facility in the North East.
 
Had he done the right thing?
 
Frustration set in. Where the heck was his Mom's computer password to access photos necessary for the service? What was it and where did she keep it?
 
He said a PRAYER. Asking God to calm him, focus him, and lead him to the password. He threw in a prayerful question:  Had he been a good enough son?
 
His eyes opened … scanning her small desk … then, falling upon Dolly's handwriting on a wrinkled piece of paper.
 
It was her password!
 
                                                #1 Son Brian
 
His eyes filled as he thanked God … and his dear mother.
 
••• 
We often advise … that the first place to go when we LOSE ANYTHING … is to "GOD'S LOST & FOUND". 
That was PROVEN to be the #1 perfect destination … for #1 Son Brian. 
If the people in these real-life Godwink stories give you HOPE… you'll be encouraged to know that similar true and heartwarming stories fill 12 books so far. 
If you're just starting with Godwinks, these books might be just right for you:
When God Winks
,
When God Winks at You
, or
Godwink Stories: A Devotional.
If you want to venture deeper into the Godwinks Thesis … consider
Godwinks & Divine Alignment
or
Godwink Effect
. 
More targeted interests are found in Godwinks on Love … Dogwinks: True Godwink Stories of Dogs… and Godwink Christmas Stories.
Wishes for Winks
SQuire