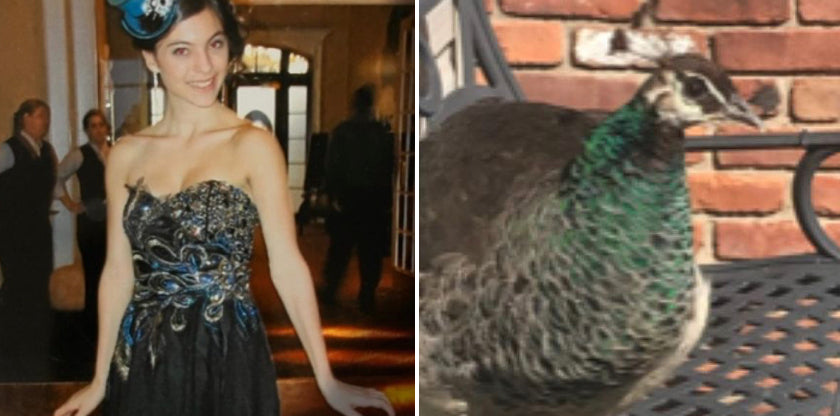 "PEACOCKS were one of my DAUGHTER GRACE'S favorite creatures. She was enamored with their regal beauty and magnificence. For her SWEET SIXTEEN Grace even wore a PEACOCK GOWN, seen here.
When I LOST my dear daughter, way too young, I cried out to God to send me a SIGN to let me know she was okay. For a long time, I saw no signs, only sorrow.
Then, one January morning I GOT my SIGN.
A beautiful PEACOCK APPEARED out of nowhere on our deck. We gave her some seeds and fruit to eat and named her SWEET PEA. In the springtime, she sampled flowers in the garden and serenaded us nightly, honking her peculiar peacock melody.
About that time, I reconnected with an OLD FRIEND, Jeanne, who was in the end stages of ALS, a debilitating disease.
We began to text daily and I SHARED STORIES of Grace and Sweet Pea. I told her that I thought Sweet Pea came to ASSURE me that Grace was safe in heaven. Jeanne would say that our conversations about life, death, and heaven made her less fearful and MORE HOPEFUL as she approached her own completion of life.
One day Jeanne suggested I write a children's book about Sweet Pea. Which I began, while studying her little routine, pecking on the back door for breakfast, and sunning herself on the deck.
Then an email came from Jeanne's husband. She'd PEACEFULLY PASSED.
I knew it was coming, still, I was saddened.
Together we had found FAITH and HOPE in our grief. Our coming together was no coincidence, nor was Sweet Pea's arrival. She was sent from heaven to strengthen my faith and to support Jeanne on her journey as well.
It should come as no surprise … the week Jeanne died … SWEET PEA DISAPPEARED. Her job was finished. 
Holding one of Sweet Pea's FEATHERS now, I wanted to share this Godwink story in the hopes it would provide hope and peace to others." 
Laura Giffen
•••
Isn't it amazing how our God finds ways to build us UP, while engaging us in work that will ENCOURAGE OTHERS? Invariably his Godwink gifts to us, are much more delicious when SHARED with someone else.
Today, look for your Godwinks… appreciate that they have been SENT to YOU "special delivery" to provide hope and peace.
And, for more stories of hope and encouragement, check here.
Wishes for Winks.
SQuire