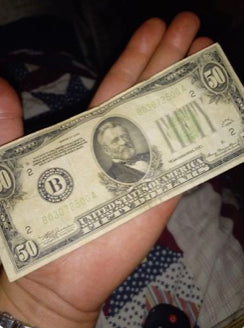 "As a SINGLE PARENT, doing my very best to survive and take care of my child, I was BROKE and I felt beyond desperate.
Three different times I trusted enough to actually ASK GOD to 'PLEASE HELP ME'.
Each time, out of nowhere, a STRANGER walked up and handed me a $50.00 dollar bill. 
EACH person said the exact same thing: 'GOD TOLD ME TO DO THIS'.
They shook my hand and walked away. I NEVER SAW even one of the three individuals who did this, EVER AGAIN."
Jenny Perkins
•••
Those of us who have studied the power of prayer in our own lives have arrived at an understanding that, over time, very clear patterns of cause and effect begin to emerge.
We become particularly encouraged when we keep a record of prayers that are answered … each a Godwink … in a journal or diary.
As with Jenny, God often answers prayers by divinely aligning us with others who, it turns out, are human ANGELS AMONG US, just the way we have been told in the ancient scriptures:
" ....entertain strangers, for by so doing... some have unwittingly entertained angels." Heb 13:2
More on Godwinks and Divine Alignment here. If you are fond of learning by listening to books, you might want to explore some of these.
May your every path be graced with angelic Godwinks.
SQuire