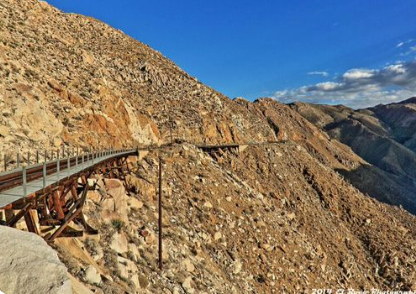 "I was MOUNTAIN BIKING with friends and two of us had fallen BEHIND.
My wheel hit a rock and I began to SLIDE over the SIDE!
Very few plants grow there among the rocks… but I was able to GRAB a dead, DRIED, PLANT that kept me from sliding further.
My friend COULDN'T PULL me up and I couldn't release the bike. There was no cell service ... I asked my friend to backtrack a distance to try to call someone.
I was so frightened. I PRAYED for help.
Then, out of nowhere came TWO MALE MOUNTAIN BIKERS who pulled me up along with the bike! I couldn't thank them enough!
I brushed myself off … looked around … and the TWO GUYS and their bikes had DISAPPEARED.
I truly believe they were angels who came to my rescue!"
Neva Van Loton
••••
Neva's harrowing story seems to fit the pattern of angelic rescue stories.
Someone is in trouble… no way out… they cry out in prayer … a stranger appears to assist out of nowhere … and when the person momentarily looks away … the rescuer has disappeared.
Do you suppose that someday we'll be shocked to learn how many angelic rescues each of us has had?
May you have wondrous Godwinks, today, on the wings of angels.